2vs1 Regroup (The Swing Shift)

---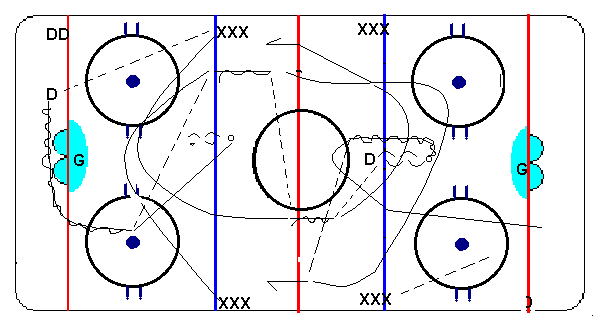 ---
This drill is useful in teaching neutral ice regrouping and using the defenceman to reorganize an attack. It is suitable for bantamn, midget etc.
Description:
Player X1 starts the drill by passing to D1 deep in corner X1 and X2 then swing low breaking out of zone getting a return pass from D1 who has skated behind the net and up ice. He may pass to either X1 or X2. X2 (with puck on diagram) passes to X1. He then passes to D2 who is stationed outside of the blue line. D2 skates backwards with puck, pivots and moves up ice passing back to forwards who have had time to regroup swinging wide again. They now attack against the original D who started the attack (D1). D2 now is responsible for getting into the corner to restart the sequence form the other end. Remember the extra D man has to move into the drill to recieve the pass.
Cues: Use width and depth, Coaches review reasons for regroup, crips accurate passes, review defensive and offensive options on 2vs1's.
Thanks to Malcolm Sutherland for his weekly drill submissions.

Malcolm Sutherland H.B. kin., C.P.T. Owner Director of Superior Hockey Schools (superiorhockey.com)
email Advanced certified Coach with Hockey Canada
Assistant Coach of the Thunder Bay Thunder Cats United Hockey League(Minor Pro.)
Certified Personal Trainer (American Council on Exercise; and IDEA)
Hockey Author
Inside Hockey / Hockey Player Magazine
Thunder Bay Hockey News on the web Youth Hockey Network (YHN.COM)