Stay Open

---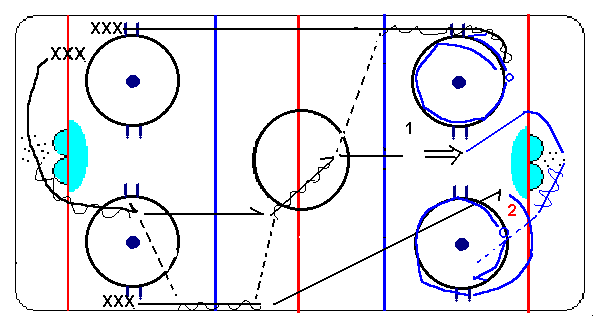 ---
Description: This drill involves the whole ice. A forward line breaks out 3vs0 with a wing carrying the puck over the bluie line driving low and deep into the O-zone. The opposite far side winger, without the puck drives to net for a pass option, the centerman stays high in slot for high slot pass. After the shot the centerman picks up a puck behind the net waiting for the coaches whistle. Wingers must skate the circles staying open to puck at all times (must perform a reverse pivot). On the whistle the centerman feeds a wing of his choice. They breakout again 3vs0 gaining the zone as before.
Cues: Triangle attack with first forward (wing) driving low, second winger to post and high man (centerman). This creates width and depth in the attack. Skating skills reinforced in the wingers reverse pivots. Wings always face the puck. This drill creates the need to support the puck carrier.
Variation: 1.Add a backchecker allowing the centerman to move the puck away from his attack to winger. Add two back checkers. 2. Have a defensive pair pick up the attack after outlet pass for a 3vs2.
Thanks to Malcolm Sutherland for his weekly drill submissions.

Malcolm Sutherland H.B. kin., C.P.T. Owner Director of Superior Hockey Schools (superiorhockey.com)
email Advanced certified Coach with Hockey Canada
Assistant Coach of the Thunder Bay Thunder Cats United Hockey League(Minor Pro.)
Certified Personal Trainer (American Council on Exercise; and IDEA)
Hockey Author
Inside Hockey / Hockey Player Magazine
Thunder Bay Hockey News on the web Youth Hockey Network (YHN.COM)