Secret Attack

---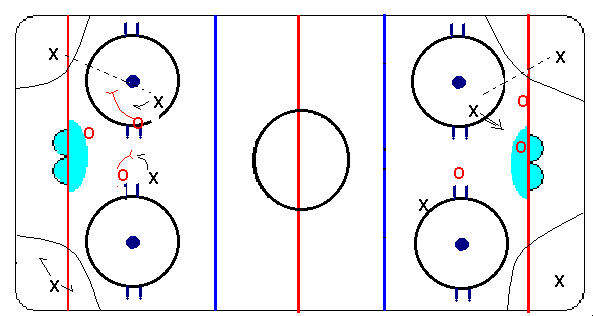 ---
Description: This drill is an excellent scoring drill and emphasizes attacks low out of the corners in the "quite zones". Players learn quality passing, going to the net and driving the lane. This low organizational game can be played at both ends of the rink, and may involve 2vs2 (diagramed), 3vs3, or 4vs4.Defensive concepts shoul be taught to defenders simulataneously.
Two players are designated as low attack men they cannot skate out of the corners and can only move in the zones indicated. Offensiive players (X's) can pass and recive passes from these "secret" men. Offensive players attempt to score will defensive (O's) defend. The coach may wish to assign a time limit to insure intensity.
Cues: Offensive - Give and Go, stay available, look for holes and lane to net, shoot in slot. Defensive - protect the scoring area, play inside out, stick on ice take away passing lane.
Thanks to Malcolm Sutherland for his weekly drill submissions.

Malcolm Sutherland H.B. kin., C.P.T. Owner Director of Superior Hockey Schools (superiorhockey.com)
email Advanced certified Coach with Hockey Canada
Assistant Coach of the Thunder Bay Thunder Cats United Hockey League(Minor Pro.)
Certified Personal Trainer (American Council on Exercise; and IDEA)
Hockey Author
Inside Hockey / Hockey Player Magazine
Thunder Bay Hockey News on the web Youth Hockey Network (YHN.COM)